In its fifth year, the Teaching with Digital Technology Awards are student-nominated awards for instructors who have effectively used digital technology to improve teaching and learning at MIT. The awards are co-sponsored by Open Learning and the Office of the Vice Chancellor.
Maria Khotisky responded to the award by saying, "I am humbled and honored by this student-nominated award. Looking back at the spring semester and preparing for the fall, I realize the importance of connecting classroom experience with what is going on in the world. During the spring semester, students in Russian language and literature classes shared their thoughts, feeling, and ideas through online collaborative spaces, video discussions, and in-class conversations. Together, we reflected on what it means to work remotely and stay connected as a class, which lessons we can draw from adjusting to sudden changes, and how we can help each other learn better."
The winners were honored in a July 30th Zoom celebration and their teaching stories are highlighted in this video: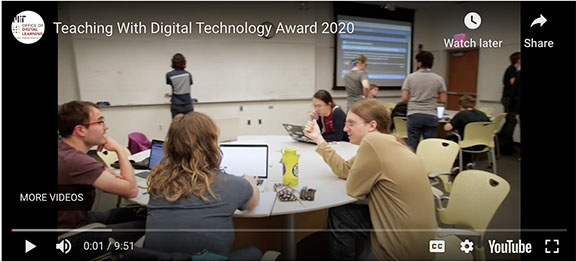 In the video, Isadora Nicholas discusses her use of games to enrich French classes. Some ideas worked better than others. "But students embraced these experiments with incredible flexibility and good humor," she said.
Congratulations to Maria and Isadora!
---
Dr. Maria Khotimsky received her PhD from the Department of Slavic Languages and Literatures in 2011. Her research interests include the history of literary translation in Russia, cross-cultural exchanges through translation, contemporary Russian poetry, and literary institutions. Her recent work includes articles and conference talks on the ideology of translation in the Soviet Union, poetics of translation in the works of several leading twentieth-century Russian poets.
Dr. Isadora Nicholas holds a Ph.D from the Department of French Language and Literature at Boston University. Her work and her teaching draw from an interdisciplinary approach to historical and aesthetic issues in cultural studies as well as film and visual culture, primarily in Francophone communities. Isadora is currently at work on publishing her dissertation.