The Goal
The overall goal of "Dans un quartier de Paris" is to provide the learners with an insider's view of a foreign cultural world, in this instance that of a quartier. The program provides multiple paths and multiple points of views, so that users can better understand the many elements that shape people's thinking and attitudes toward their living and working environment.
Subject
"Dans un quartier de Paris" (long named "Dans le quartier St. Gervais") is a multimedia interactive documentary, filmed in Paris, which offers users a chance to explore a uniquely French cultural space, the micro-world of a quartier, located in Le Marais area.
Le Quartier
(audio to this video is street noises)
It is a visual database, which includes people, streets, buildings, objects and artifacts that can be explored in multiple ways by learners at many different levels, and for many different purposes.
Context
The program allows the user to: meet a variety of people living in the neighborhood (some who have lived there for forty years, some for only two years, for example); to visit a variety of places (places that all have meaning in the daily lives of the people living in the neighborhood); to have access to the issues that have shaped the neighborhood, such as gentrification and the role of City Hall; and to hear of the changes that have taken place in the neighborhood over the last decade.
Old and new store fronts co-exist, but for how long?
(images only, no sound track)
Conversations
A young luthier talks about the neighborhood.
Mme Izrael owns Le Monde des Epices and doesn't like what has happened.
M. Desmarty explains why the neighborhood was better before…
Delivery
"Dans un quartier de Paris" provides multiple paths and tools into the exploration of the neighborhood and in particular a series of maps and submaps designed to help the user physically locate places as well as a guidebook containing a variety of information.
The map of Le Quartier with La Tartine highlighted.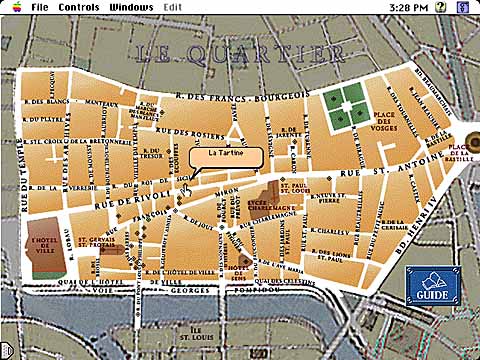 Inside La Tartine.
(video soundtrack is muffled conversation, inaudible)
The Map allows the user to randomly explore the neighborhood.
The Guide provides the user with more structured information. It contains four entries:
1) Gens, which lists all the people one can meet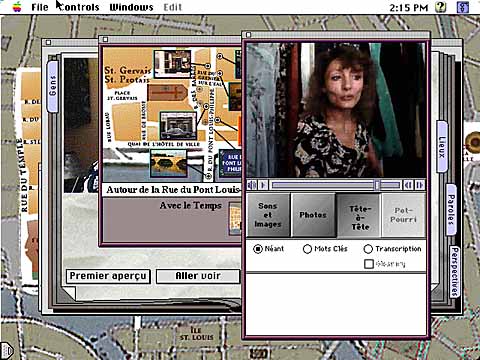 Mme Levy moved in recently and likes the neighborhood.
2) Lieux, which lists all the places one can visit.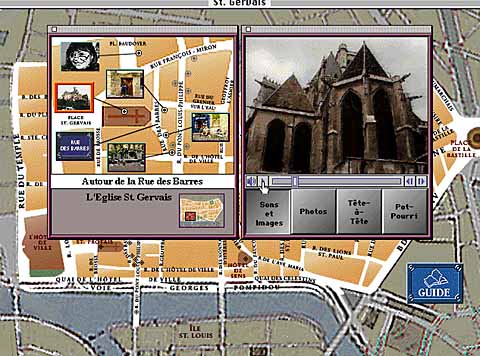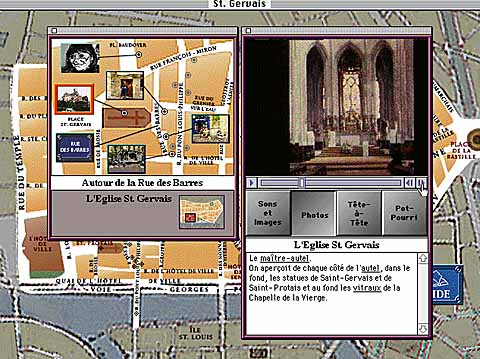 3) Paroles, which focuses on the words that people use when they talk about certain aspects of their neighborhood: what a "real commercant" is, what "lively" means, what "habiter" means, etc… The juxtaposition of several points of view around a same word allows the user to uncover the different meanings these words hold for different people.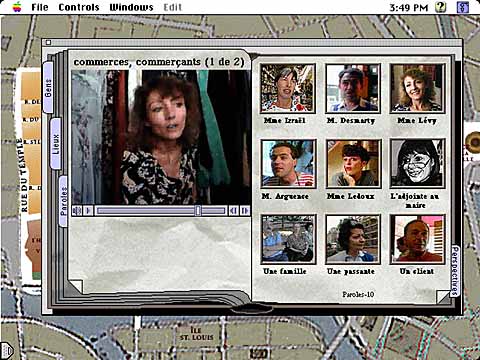 4) Perspectives, which focuses on the references people make when they talk about their neighborhood (notions of time, of space, of self, of others, etc…), provides learners with clues to how people frame issues, and allows themto acess the underlying cultural framework within which people express and define themselves vis a vis their environment.