!— Windows 8.1 + IE11 and above —>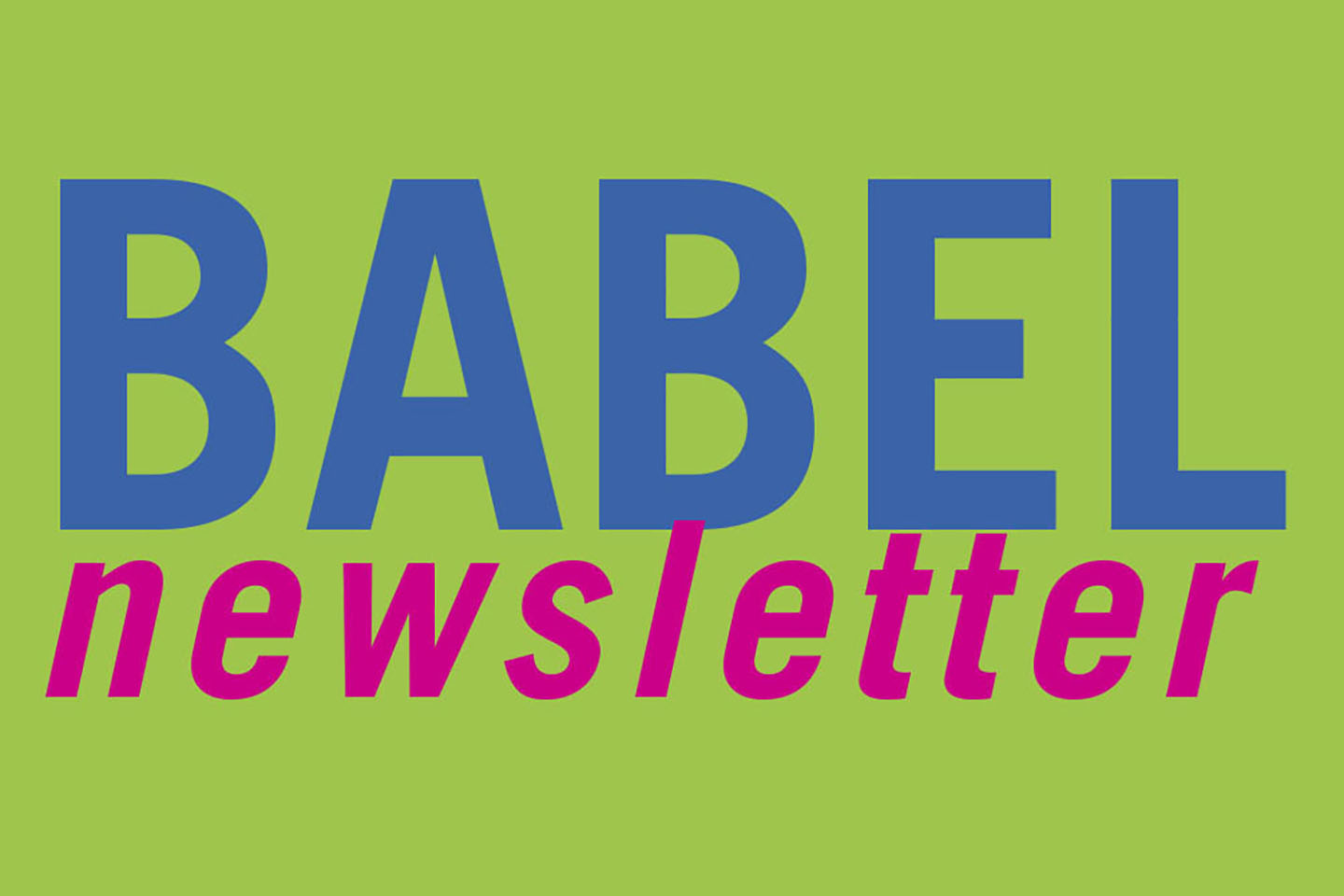 Highlights
Global Languages continued its Pedagogy Lecture Series with a lecture by Angela Lee-Smith of Yale University, on "Beyond the Communicative Approach: Language Teaching and Learning in the Post-Method Era" on September 14; and a lecture by Carl Blyth of University of Texas at Austin on "Open Education and L2 Learning and Teaching: The Rise of a New Knowledge Ecology" on October 5.
Global Languages announced the launch of a pilot program in Arabic Language, taught by Dr. Greg Halaby. An event was held in December to highlight the new classes. Hajj Wafaa discussed and demonstrated styles of Arabic calligraphy. MIT News. Read more.
Global languages announced the launch of a pilot class in ASL, to be offered on a non-credit bearing basis for IAP, taught by Andrew Bottoms.
Publications
News and notes
Global Languages received a grant from UPC to support Asian Studies extracurricular programming.
Takako Aikawa was profiled in Spectrum for her research in innovative pedagogical technology. Spectrum.
Nilma Dominique became the Co-Director of Test Development for the National Portuguese Examinations​ for the American Association of Teachers of Spanish and Portuguese in December.
Gilberte Furstenberg reflected on technology and language education in an interview. Read more.
Heeyeong Jung served as a judge at the second New England Korean Speech Contest, held virtually in November.
Maria Khotimsky and collaborators receive a two-year STARTALK grant. Read more.
Min-Min Liang was elected in November to serve as the Vice Chair of the ACTFL Heritage Languages Special Interest Group. The position started in January 2022.
Wakana Maekawa is a member of the Japanese for Specific Purposes group of the American Association of Teachers of Japanese and was featured as "Member in the Spotlight" in its newsletter in October. AATJ JSP SIG Newsletter
Conferences and presentations
In September, Claire Conceison, Cathy Culot, Leanna Rezvani, Bruno Perreau, and Larysa Smirnova made presentations about MIT French Studies at a special reception for Philippe Étienne, French Ambassador to the United States, and Arnaud Mentré, Consul General of France in Boston, during the ambassador's visit to MIT.
In October the Global Languages Colloquium sponsored a panel on "Strategies of Promoting Students Active Learning and Mental Wellness" with presentations by Panpan Gao, Wakana Maekawa, and Kang Zhou.
Takako Aikawa made a number of virtual presentations: "Blended Learning as the New Normal for Teaching Japanese," at the ACTFL 2021 Annual Convention in November; an invited talk in October, "Technical Skills for the New Normal," for the Professional Development Workshop at the 2021 Mid-Atlantic Association of Teachers of Japanese Conference; "Synergy of Synchronous and Asynchronous Learning Environments: A new hybrid-model with the power of un- and re-," an invited talk in July for the American Association of Teachers of Japanese Professional Development Series. She also gave several talks in June.
Tong Chen gave two presentations in October: "Measuring Upper-Intermediate Students Self-Study Efficiency with Technology," at NECLTA Annual Conference (virtual), and "Teaching Tones at the Sentence Level for True Beginners," invited talk organized by CLTA SIG and sponsored by The Council on East Asian Studies at Yale University (virtual). In November he gave a presented "Teaching Tones the Way They Are Actually Said: Framework and Demonstration" at ACTFL Annual Conference (virtual).
Nilma Dominique gave a virtual presentation "Communicating with your Hands: some Brazilian Gestures you Should Know About" at Middlebury College, Portuguese Summer Program in June.
Panpan Gao gave a presentation "Inclusive Chinese Classroom in the post-COVID 19 Era: Time Management, Learning Strategy, Anxiety and Learning Disabilities," at the New England Chinese Language Teachers Association 10th Annual Conference, Tufts University
Dagmar Jaeger gave two presentations in June at the virtual IALLT conference. She gave an asynchronous video presentation entitled "The Role of the Language Teacher:  How Scaffolding Leads to Project-Based Learning", and a synchronous talk entitled "Digital Annotation for the Language Classroom."
Heeyeong Jung presented a research paper on "Implementing Integrated Performance Assessment in Korean Language courses" at ACTFL 2021 Virtual Convention in November.
Maria Khotimsky served as the co-organizer at the "Translation as Intersection" panel stream during the annual convention of the Association of Slavic, Eurasia, and East European Studies. The panel stream, co-organized with a colleague from Moscow, included two round tables and five panels. Maria also served as a chair and discussant at the panel on "Olga Sedakova and Translation."
Min-Min Liang was the co-Organizer and co-host of the ACTFL Heritage Languages Webinar, "Heritage Language Development: The Advantages, The Problem, AND The Solution," by Dr. Stephen Krashen, in December.
Haohsiang Liao was invited to be a roundtable discussant for "What Online Practices Could We Continue to Adopt in Classroom Teaching?" at the Fourth International Conference on Chinese Pedagogy at Harvard University in September.
Leanna Rezvani presented a paper entitled, "Saint Francis and the False Sanctity of the Franciscans in the Heptaméron" at the Sixteenth Century Studies Conference in San Diego in October.
Kang Zhou

gave an invited virtual talk in September:

"Chinese Calligraphy at MIT" for the Symposium on Chinese Language Curriculum Innovation at the  University of Washington in Seattle.
Students and alumni
In October, Global Languages joined with MISTI to host a panel of alumni to discuss the impact language and cultural competencies have on their career paths. The panel included Marwa AlAlawi, SB '20, Isaac Lozada, SB '10, William Rodriguez, SB '18, Joshua Woodard, SB '18, and Piper Sigrest, SB '18.
Four MIT students participated in the first Online Olympiada of Russian as a Foreign language organized by the Saint Petersburg State University. Competing in the event were 135 students from different colleges and universities in the US. MIT's Julia Gonik received second place in the A2 level, and Hannah Tomio, also from MIT, was awarded third place in the B2 Level.
Mojolaoluwa Oke, Japanese Minor, was profiled on Global Languages website. Read more.
Burhan Azeem, alum and newly-elected to Cambridge City Council, explains why he studied Chinese at MIT. Read More.
Classes and activities
Nilma Dominique reported a lively series of events this fall with Portuguese students, including: weekly lunches; a virtual classroom visit by filmmaker Anna Muylaert; a trip by her Brazilian film class to attend Hadestown at the Boston Opera House; attending a "Brazilian Choro Concert" at Lilypad; and an end-of-the-semester event with a talent show .
Dagmar Jaeger's 21G.409 Visual Arts, Media, Creative Expression visited the permanent collection of German expressionist paintings at the Busch Reisinger Museum at Harvard University on October 28. The group started their visit exploring shape, form and color by drawing one of exhibited works themselves. After viewing and discussing art work by Paula Modersohn-Becker and Max Beckmann, the group discussed in detail Erich Nolde's painting "Die Mulattin" in a historical context, as well as speculating in which ways such a painting could contribute to today's discussion revolving around race and gender. At the end of the visit, working in pairs, students linked two paintings of their choice, discovering a common motive or element.
Isadora Nicholas brought her 21G.312 French Food and Cultures class outdoors in October. Students learned the "correct" way to cut cheeses and bread and put their tastebuds to the test! (See photo below.)
Leanna Rezvani's students enjoyed a concert and Q & A with Franco-Togolese singer-songwriter, Brice Kapel, via Zoom.