!— Windows 8.1 + IE11 and above —>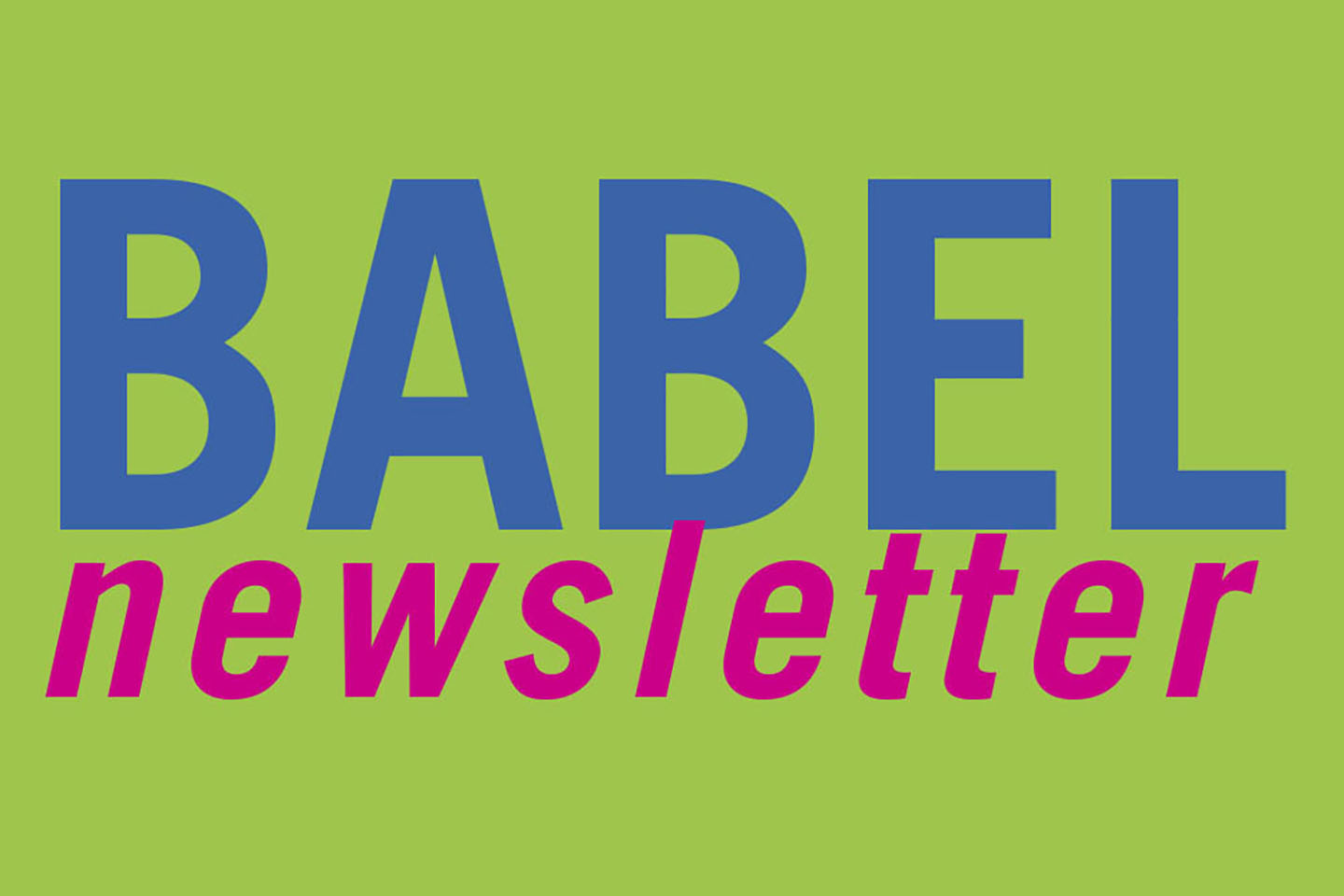 Highlights and Milestones
Joanna Lin graduated with a double major in Biology and French. Congratulations Joanna!
A new Korean Concentration was approved. MIT News article
A pilot First-Year Learning Community, Tutmonda, co-sponsored by Global Languages and MISTI, brought global educational programming and a sense of community to first-year students who view international experiences as central to their educational trajectory. READ MORE
Jane Dunphy, Senior Lecturer in English Language Studies and Sabine Levet, Senior Lecturer in French, both retired at the conclusion of the 2021 academic year. An online celebration was held in May.
Takako Aikawa was a Digital Humanities Fellow at the MIT Digital Humanities Lab this year. Working together with students and members of the DH lab, her team explored and created new tools to enhance online language teaching and learning.
Haohsiang Liao launched MITx: Chinese Language in Culture, Level 2, a novice-level MOOC course offered on edX in April.
Joseph Borkowski served as President-Elect of NERALT.
Publications
Awards and Honors Received by GL Lecturers and Staff
Student Awards and Achievements
Global Languages Events
Global Languages held two events in its Pedagogy Lecture Series, featuring Jamie Rankin on March 31 and Sébastien Dubreil on April 20.
A Global Languages Colloquium on Innovative Approaches to Introductions, Remote Learning, and Assessment was held in March. The presentations were: Anh Nguyen, "Introductions 2.0: Re-asking Wie heißt du? Woher kommst du? in the Third Semester"; Helena Belio Apaolaza and Liana Ewald, "VR in remote learning: a midterm project for/in the Spanish classroom"; and Heeyeong Jung, "The effectiveness of implementing IPA (Integrated Performance Assessment) in post-secondary Korean Language courses."
Conferences, Presentations, Lectures
Global Languages had a good showing at the conference of the the International Association for Language Learning Technology (IALLT). Joseph Borkowski presented a session titled "Virtual International Film Series: A DIY Remote Community-Building Activity for Language Programs and Centers." He also presented on a panel with Liana Ewald and Angelina Craig-Flórez (Columbia University), entitled "Anatomy of an Evolving DH Project: A Student-Generated Collaborative Digital Book for F2F and Online Classes." Maria Khotimsky, Dagmar Jaeger, and Min-Min Liang organized and presented a panel titled "Lessons of the Virtual Semesters: Assessing Online Activities for Implementation in the Classroom." Dagmar Jaeger also gave a presentation entitled "The Role of the Language Teacher: How Scaffolding Leads to Project-Based Learning."
Helena Belío Apaolaza, Hee-Jeong Jeong, and Min-Min Liang presented as part of the April 22 SHASS Digital Teaching and Research Collaborative Session "Technology in the Classroom: Sharing Strategies with Examples from Global Languages." Joseph Borkowski moderated the session.
Takako Aikawa, Wakana Maekawa and Masami Ikeda presented "How to better prepare students for their future careers: Toward the development of 'Japanese for professional communication'" at the AATJ 2021 Spring Conference in March (Zoom).
Takako Aikawa gave the following invited talks/workshops: In June she spoke at the professional development workshop for the teachers at the Middlebury Japanese Language Summer Institute at Middlebury College. In April she presented "New Language Learning Experiences-Blended Learning, NLP, and AR/VR" at a Webinar sponsored by the Ohio Association of Teachers of Japanese. In February she presented "The roles of language teachers and technology in the age of the new normal" for the Illinois Center for East Asian & Pacific Studies Speaker Series at Illinois University. Takako Aikawa also gave the following conference presentations: In June she presented "Virtual Reality as a New Modality for Language Learning" for CALICO (Computer-Assisted Language Instruction Consortium). Also in June she presented "A pathway to the new normal language pedagogy: let's unlearn and relearn!" for the 34th Japanese Language Teachers' Association of New England at Smith College. In May she presented "Hybrid Pedagogy Guided by Learning Modalities" at the 2021 Princeton Japanese Pedagogy Forum at Princeton University.
Joseph Borkowski co-led a SHASS Digital Teaching and Research Collaborative Sessions April 1, "Designing Digital Course Projects," with Meghan Perdue (SHASS Digital Learning Fellow).
Tong Chen chaired a panel at the CLTA annual conference in April and delivered a presentation entitled "Working with Novice Adult Learners of Chinese in an Immersion Setting."
Nilma Dominique was a keynote speaker in March at the Conference on Portuguese as a Foreign Language at Columbia University: Linguistics and Cultural Studies: Intersections with Teaching Portuguese as a Foreign Language. Her talk was entitled, "Emblemas Gestuais e seu Caráter Linguístico-Comunicativo: reflexões e propostas para a inserção dos signos não verbais na aula de PLE" [Linguistic and Communicative Characteristics of Emblematic Gestures: Reflections and Proposals for the Inclusion of Non-verbal Signs in the PLE Class]. On April 21 she gave a talk at the Wellesley College Spanish Department: "Race and Identity in Brazil: The Myth of Racial Color Blindness."
Liana Ewald and Alicia Goldstein Raun (MISTI Spain) gave a brief talk about festivals in the Spain and Latin America in conjunction with the MIT Language Conversation Exchange (LCE). ​
Panpan Gao gave a talk "Pause, Refocus, Inner Peace: Guided Meditation in Chinese Language Teaching" at the New England Chinese Language Teachers' Association (NECLTA) 2021 professional development workshop series.
Eric Grunwald presented "Knowing Thyself: Getting ELLs to Dig Deep in Personal Narrative Essays" at the 2021 Student Success in Writing Conference in April. In March he presented "Students as Virtual Tour Guides: Remote Presentations on Historical Sites" at the 2021 TESOL International Conference, Electronic Village.
Maria Khotimsky participated as a co-organizer and judge at the New England Olympiada of Spoken Russian in April. In February she made a presentation on the "Intermediate Russian Fairy Tale Project" at the American Association for Teachers of Slavic and East European Languages. Also in February, she presented "Interactive Online Tasks for Zoom Classes and Beyond" at the American Council of Teachers of Russian Virtual Teacher Lounge talk series.
Min-Min Liang presented "Assessing Online Activities for Implementation in the Classroom" in May at the 11th International Conference and Workshops on Technology and Chinese Language Teaching Virtual Annual Conference. Also in May she was co-organizer and co-host of the ACTFL Heritage Languages Webinar, "Collaboration Between College and Community-based Heritage Schools in Maintaining Heritage Languages." In April she participated in a roundtable, "Scaffolding Writing in Chinese as a Heritage Language," at the 2021 CLTA Virtual Annual Conference; she also presented a paper, "Question Formulation Technique" paper at the conference. In March she was co-organizer and co-host of the ACTFL Heritage Languages Webinar, "Approaches to teaching Chinese and Russian HLLs at the postsecondary level: focus on literacy development."
Haohsiang Liao was invited to give a talk in May entitled "Chinese Language MOOCs: MITx – Chinese Language in Culture" at the 2021 Workshop on Mandarin Chinese Teaching and Learning in India, held by Tsinghua University in Taiwan. In March, he gave another talk, entitled "The Pedagogical Design of Chinese Language MOOCs: MITx – Chinese Language in Culture," held by the Chinese Language Department of Moscow City University in Russia.
Emma Teng gave a number of talks in May: "AAPI Activism: A Brief History," AAPI in Politics, Massachusetts Asian American Students Political Initiative (webinar); "China Comes to MIT: A History of the First Chinese Students: 1877-1931," invited lecture, MIT Clubs of San Diego and Southern California; and "Taiwan's Imagined Geography," When the World Became Global history class, Grinnell College. Emma Teng also gave a number of presentations at MIT in May: "Asian Americans: A Brief Overview from 1850," invited lecture, Pan Asian Laboratory Staff, MIT Lincoln Laboratory (remote); "Asian American Visibility & Intersectionality at MIT," panelist, Institute Community and Equity Office, MIT (webinar); "The Chinese Food Industry and Migration," invited speaker, Let's Talk Food! hosted by MIT Asian American Initiative (remote); and "AAPI Issues," Diversity in Chemical Engineering, MIT (remote). In April she presented "Diversity & Inclusion: Where Do Asian Americans Fit?" for the Obstetrical Society of Boston.  In March she gave a talk, "Boston's King Incident of 1905: US Immigration Restriction, Chinese Students, and Class Bias," for the Interdisciplinary Studies Virtual Public Lecture and Discussion Series, Salem State University. And in January she presented "Disease and Anti-Chinese Sentiment: From the San Francisco Plague to Covid19" for IMUSE 2021 Virtual Hackathon, Pandemic Response Challenge (remote). In April she was a participant in the MIT Compton Roundtable with Anthony Appiah.
Kang Zhou gave a talk, "The Development of Audiovisual Materials and Multiple Applications in Chinese Language Teaching", for the CLTA-SIG Webinar in March. Also in March he presented "Approaches to Teaching Chinese and Russian HLLs at the Postsecondary Level: Focus on Literacy Development" at the Heritage Learning SIG Webinar, ACTFL.
Classes, Curriculum, Creative Pedagogies
Global Languages lecturers went "the extra mile" to keep intensive IAP remote classes engaging. Read about the experiences of Tong Chen, Isadora Nicholas, Mark Römisch, Emiko Rafique, Hee-Jeong Jeong, Nilma Dominique, Maria Andrianova, and Robert Herr. READ MORE
Heeyeong Jung earned certification as an ACTFL OPI (Oral Proficiency Interview) Tester in Korean.
Global Languages announced a new class approved for fall 2021: 21G.615 Russian V: Russian for STEM. READ MORE
Tong Chen organized a weekly online café for his class 21G.106. Fourteen Chinese college students were also invited to join. Students practiced Chinese with their Chinese counterparts, discussed cultural differences, shared opinions, and shared their growing-up stories, among other topics. Students also learned Chinese songs, including from the Beijing Opera, to compare English-language and Chinese-language music.
Nilma Dominique co-organized the Brasilidade Series event in April, "Capoeira with Mestre Acordeon: a half century of cultural diplomacy in the US and Brazil." In April she also arranged for her students to receive gift bags with MIT-Brazil support.
Leanna Rezvani arranged a virtual concert for her students with Franco-Togolese musician Brice Kapel in March.
In the Media
Nilma Dominique was interviewed April 6 by RadiOlavide, and participated in the monthly program "The World of Portuguese Language," the first program created, coordinated, presented and edited exclusively by women, in Seville, Spain. Her comments on remote teaching were also included in an issue of the newsletter of the American Association of Teachers of Spanish and Portuguese (AATSP).
Panpan Gao and Kang Zhou were interviewed for 6/2 MIT News "Q&A: Meditation for Chinese language learners"
Emma Teng appeared in a number of articles and interviews this spring including: 5/24 MIT News, "A searching discussion about being Asian American at MIT"; 4/2 MIT News, "3 Questions: Emma Teng on anti-Asian American violence in the US"; 3/8 Washington Post, "Americans started wearing face masks a year ago. Where do we go from here?"; 12/26 LA Times, "Some Asian Americans and immigrants wore masks readily. In a brutal election year, it made them heroes, targets, prophets."